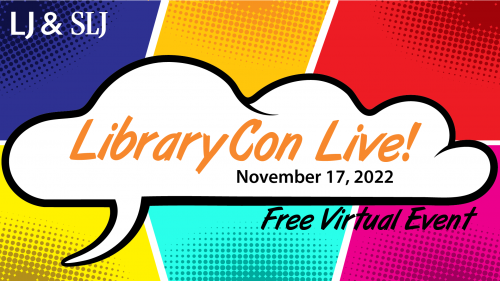 A
day-long celebration
of fandom, spotlighting genre fiction for adults and teens with panels devoted to comics and graphic novels, horror, sf/fantasy, and more.
LibraryCon Live! November 17, 2022
3:30 – 4:20 PM ET | Growing Into Your Power(s)
Coming of age can be a perilous journey; these panelists, whose works are aimed at middle grade and teen readers, will discuss using elements of the fantastic to portray characters who still feel real.
Maiya Ibrahim, the Spice Road series (Random House Children's Books)
Tehlor Kay Mejia, Lucha of the Night Forest (Random House Children's Books)
Maria Ingrande Mora, The Immeasurable Depth of You (Peachtree Teen)
Gabe Cole Novoa, The Wicked Bargain (Random House Children's Books)              
Mairghread Scott, Sea Serpent's Heir (Image Comics/Skybound Comet)
Moderator: Monisha Blair, Head Librarian, Key Middle School, Fairfax County (VA)
My Panels:
Nevertheless, She Persisted: The Explosion of the Heroine in the 50 Years Since Mia Havero with Catherine Lundoff, Glenda Larke, Lee Murray and Maiya Ibrahim.
Magic Systems in Fantasy with Garth Nix, Laura Lam, Sarah Beth Durst, Jennifer Mace and Maiya Ibrahim.
Writing Fantasy and SF from the Margins with Michi Trota, Eugen Bacon, Kieron Gillen, E.J. Beaton and Maiya Ibrahim.
Links